"Do not fear, Joseph, to take Mary
your wife into your home. That
which is conceived in her is
by the Holy Spirit."
We spent the weekend visiting our daughter and her family in the Pittsburgh area so we could attend the Christmas play in which her children were performing,
The Promise: A Christmas Musical
written and directed by Bernadette Calvino
My expectations were low. I've been to a lot of children's productions and, well, usually the best I can say is that you just gotta love your children and grandchildren. This production was different. There were some rough edges, especially with the stage crew, but the performance was splendid! The play, an original piece written by the DRE of All Saints, one of the area churches, told the Christmas story through the eyes of a maggid, an itinerant Jewish preacher and storyteller played by one of our granddaughters. She sang beautifully as she linked the different events of the Christmas story often setting the scene and then being a silent watcher. The play was a musical with short scenes of dialogue connecting the various songs most of which were written by Michael Card.
The youngsters playing Mary and Joseph projected a tender respect and affection for each other that was touching. Joseph was much taller than Mary so there was always a sense of his gentle protection over her and later Jesus. Joseph's Song expressing his trepidation about rearing the Son of God was tone-perfect. Joseph didn't have a strong voice, but he so captured Joseph's strength and humility that it diminished his performance very little. Mary on the other hand had a beautiful, almost ethereal, soprano that made every song she sang a delight.
There were three angels who took part in many scenes (the youngest was one of our granddaughters) and their scenes often ended in a beautiful tableau. They made a particularly graceful frame around the holy family after the birth of Christ. It was lovely!
But the performance that really astounded me was our granddaughter Mia who played the role of the innkeeper. She had a baby (played by a doll of course) and from her first entrance, established the tender love between a mother and her little one. As I watched that expression of love grow from scene to scene, I was hoping they weren't going to portray the murder of the innocents. And they didn't on stage. We saw Herod enraged at being tricked by the kings and ordering his soldier to kill the children. Then we heard the screams of the mothers off stage. Four came on stage all cradling their "babies" to sing a song of grief as they raised their children's dead bodies to heaven. The three other girls (two of whom were very young) did not really express grief well, but Mia was so convincing as she wept over her little one in their song that a man in the row behind me began to cry out loud. I was tearing up myself and wondering how those poor mothers survived. "Rachel (the innkeeper's name) weeping for her children and refusing to be comforted because they are no more."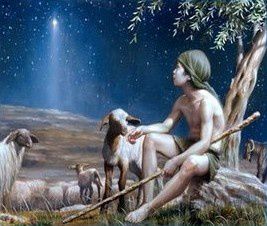 All of the children did a great job. The three kings were the comic relief in many scenes with one who was hard of hearing and kept misinterpreting what was said. Herod was a raging maniac terrifying his court. The shepherds were the despised outcasts of the town who were thrilled to be the messengers that the Messiah was born. One rude shepherd girl (another granddaughter) who insulted the innkeeper (her sister) later greeted her kindly after visiting the stable. "I'm a changed woman!" she proclaimed to a big laugh. What a truth to be proclaimed. Meeting Jesus should change us all!
And the costumes! Whoever oversaw them could work on Broadway!
The entire production was a real entering in to the Christmas story. And what a learning experience for the children! They will never forget it I'm sure! Neither will I. My only regret is that I have no photos to share. (A situation amended when the director sent me
the link to their Facebook page
.)
Most of the music was from Michael Card. Here's Joseph's Song. May we all experience the wonder of Christmas and imitate the humility of Mary and Joseph as we enter into the mystery of God's love, a love so great He sent His only begotten Son to suffer and die for our salvation.
Thank you Jesus